'Eating Bitter as Gratitude for Hard Work: In Anticipation of Independent Publication Practices on Slow Down' is a conversation between participants of Distribution Assembly East (DAE).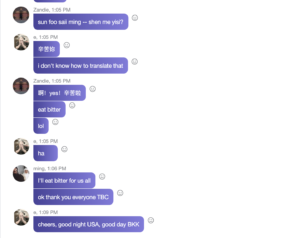 Distribution Assembly East (DAE) is an occasional convergence in matters of print, thinking fluidly through borders, identities—and the content between covers—by taking up the mantle of 'circulation as form'. In 2019, convened by 八家Bajia, 展銷場 Display Distribute, and Sponge Gourd Collective, DAE presented publications in the Friendly Fires section of Printed Matter's LA Art Book Fair (LAABF), centering around the theme of 'Disappearance'.
For 2020, on the would've been occasion of the 2020 edition of the fair, publisher-distributors 八家Bajia (Beijing/Los Angeles), 展銷場 Display Distribute (Hong Kong/New York/Taiyuan) and ซอย | soi (Bangkok) planned to present new selections thinking through the thematic lens of 'Shadows', as movements that course through the channels of the visible, are often elicit, mostly marginal and always essential. However, in light of the pandemic, various logistical and transportation ruptures provided instead a rare moment of contemplation of the potentials inherent to circulatory practices on slow down. At the request of DAE, this PDF was published on Printed Matter's website as the first ever free distribution PDF offered by the institution. 'Eating Bitter' is an annotated transcript of a conversation that took place over Skype, across 3 different time zones, in the onset of global crisis—wherein members of the roving collective expressed their fears, aspirations and ambivalences in regards to publishing today.
No printed edition, you may find free PDF on the left-hand side of this page or go to
Printed Matter
Keywords: Circulation, Distribution, Logistics, E/SE Asia, Shadows, Disappearance, Marginalia, PDF, Bitter